18 March 2016
A young Center scientist receives DKK 2.1m fellowship to investigate parts of the brain controlling how much we eat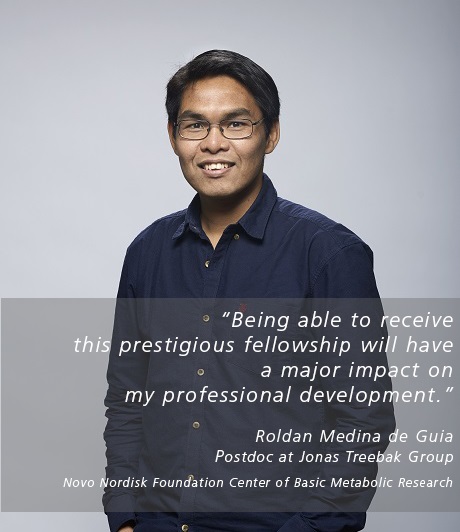 Roldan Media De Guia, a postdoc in the Treebak group, Section for Integrative Physiology, Novo Nordisk Foundation Center for Basic Metabolic Research, receives DKK 2.1m as an individual postdoc fellowship from the Danish Council for Independent Research (DFF) to investigate the mechanisms of controlling eating behavior in the brain.
According to the report from WHO, obesity and diabetes, considered to be the biggest epidemic in human history, are still evolving. In Denmark, about 14% of respondents in a 2013 survey are obese.
To combat this overwhelming pandemic emerged from abnormal eating behaviour, it is imperative to develop new treatment strategies. One of the strategies addressing molecular causes will be developed by Roldan Medina de Guia through his 2.5-year individual fellowship.
The neurons in the hypothalamus control eating behavior. Yet, the exact mechanism of it remains elusive.
A group of proteins called Sirtuins have been reported to play an important role in the integration of neural-hormonal signals by the hypothalamus and to regulate the energy balance.
"We believe that changing the levels of `nicotinamide adenine dinucleotide' (NAD) proteins in the hypothalamus of the brain, and thereby the action of Sirtuins, could affect how much we eat," reports Roldan Medina de Guia.
If proven right, the findings could provide potential treatment strategy for obesity and can be helpful to solve metabolic problems.
"What is exciting about this project is the fact that no one has done this line of work before. To attain these truly unique findings and to minimize the potential risks, we have prepared a thorough plan. We plan to tackle the challenges from different angles: in silico, i.e. via computer simulation; in vitro, i.e. test tube experiments, and in vivo, i.e. tested on living organisms. So, I am very excited to start the project," says postdoc Roldan Medina de Guia, the receiver of the DKK 2.1m grant from DFF.
"Being able to receive this prestigious fellowship will have a major impact on my professional development. In the Center context, receiving support from DFF would help the organisation pursue its aims for better research in metabolism," adds de Guia.
Roldan Medina de Guia is a Doctor of Science (with distinction) from Heidelberg University, Germany. Roldan started working in the field of Molecular Metabolism in 2010 under the supervision of Dr. Stephan Herzig, the Director of the Institute for Diabetes and Cancer at Helmholtz Zentrum Munich.
Besides, Roldan has experience in Genetic Epidemiology from his Master's degree at the University of Santo Tomas, Philippines.
In his spare time, Roldan recharges his batteries by spending time with his friends, travelling, hiking, dancing and enjoying what Copenhagen has to offer.