21 March 2016
Genetic scientist from Denmark is honoured with Indian prize
PRIZE
On 2 March 2016, at a ceremony at Madras Diabetes Research Foundation and Dr Mohan's Diabetes Hospital in Chennai, India, Professor Oluf Borbye Pedersen from Novo Nordisk Foundation Center for Basic Metabolic Research at the University of Copenhagen, Denmark, was honoured with the prestigious Dr Monohan's 25th Gold Medal Oration Award for his pioneering studies of human intestinal bacteria based on DNA.
Over the last few years, Oluf Borbye Pedersen has been at the forefront of international research. Aided by advanced gene technology and bioinformatics, researchers have been able to map the more 10 million human bacteria and they have used this new knowledge to identify and highlight the function of large parts of the approx. 50 billion intestinal bacteria that cannot be traditionally grown in a laboratory. This ground-breaking research has revealed a hitherto unknown and important aspects of human biology.
Oluf Borbye Pedersen also heads the research project "MicrobDiab", a Danish/Indian collaborative project financed by the Innovation Foundation (DK) and a corresponding Indian public foundation.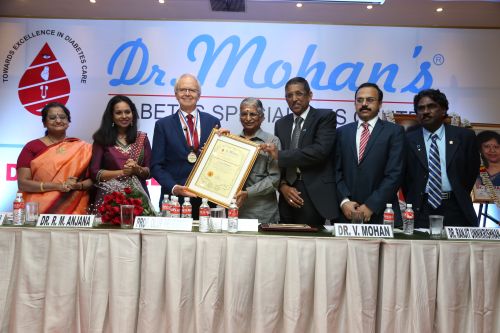 The research project "MicroDiab" examines whether changes to the composition of intestinal bacteria and impacts on host-organisms play a part in the development of the early stages of diabetes in India and Denmark. India has the largest prevalence of diabetes worldwide with more than 60 million patients.
Dr Mohan's Diabetes Hospital was established 25 years ago, and today, it is one of the largest diabetes treatment facilities with more than 300,000 registered patients. The hospital is a WHO-approved centre of diabetes research.