03 May 2016
Marie Aare Bentsen: A personal story about being a Center employee, a female scientist and an interdisciplinary researcher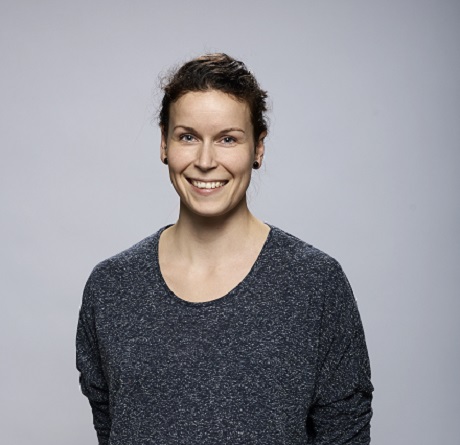 Being part of the Center from its very beginning in 2010, Marie, a newly-employed talented postdoc at the Section for Metabolic Receptology, has proven to be a highly developed, talented and enthusiastic scientist who quickly acquired the knowledge and experimental skills to accomplish her PhD studies with flying colours and get a recent postdoc employment. Looking back at the school time, even Marie herself could not predict it to develop so tremendously well.
Loving nature
Growing up in a country side in Northern Sealand, Denmark, Marie has always felt being part of nature. This special connection with nature became the first step towards Marie's interest to learn about biology despite the fact that, to her own confession, she was "really bad at school".
"After school, I did not know what to do and where to go," giggles Marie during the interview, "I thought about working with people and embrace the soft side of my character. However, connection with the nature brought me to start studying plants, so to say, go back to my root interest," recalls Marie and adds that she needed to take some supplementary courses in order to be accepted at KU LIFE, at that time known as KVL, later transformed into SCIENCE and SUND Faculties.
Marie took extra courses in maths, chemistry and physics which altogether shaped an entrance door to the world of science. "It was eye-opening, wow! By understanding more and more, I have realized how much I have missed during my high school. It was so interesting this time, and I felt awakened!" exclaims Marie with a sparkle in her eyes.
Truly interdisciplinary approach
This door led to her graduate studies and a Master's project in metabolic genetics in Torben Hansen's laboratory. Marie's Master's degree in biotechnology was her successful attempt to understand the cell science on a deeper level.
Through the project at the Hagedorn Research Institute, Marie became interested in genetics, type 2 diabetes and obesity which altogether led to a joint PhD project focusing on rare genetic variants 7TM receptors (G protein-coupled receptors (GPCRs)) in the Professor Thue Schwartz' laboratory, Section for Metabolic Receptology.
"It was quite interesting times. Through my Master's thesis, I was used to working in a dry lab, basically, in front of my computer screen, doing epidemiology. Now, as a PhD student, I had to go back to the wet lab and combine my knowledge on type 2 diabetes, metabolism and genetics to see receptor signal transduction relationships and how metabolite receptors control the function of endocrine and metabolic issues – a truly interdisciplinary project in a nutshell," recalls Marie.
This interdisciplinary approach and Marie's genuine interest and deep knowledge in different subjects were the main factors that impressed the audience and the opponents during Marie's extraordinary PhD defense.
As Thue Schwartz remembers it: "After presenting her PhD project, Marie for more than two hours in the most impressive way, elegantly discussed first basic molecular pharmacological and chemical issues with Professor Trond Ulven; and then – bioinformatics and genetic issues with Professor Anna Gloyn from Oxford."
According to Thue Schwartz, neither of the opponents and few if any in the audience could follow the other part of the discussion which illustrates how broadly Marie covers science. As Thue Schwartz recalls it: "Professor Gloyn was literately flabbergasted by Marie Bentsen's performance".
Plans for the future
In the same, elegant and truly interdisciplinary, way, Marie again has changed the track of her research area: Today, she is focusing on transcriptomics in the mouse brain and, in cooperation with Associate Professor Tune Pers from Section for Metabolic Genetics, will be setting up a new technique trying to elucidate what happens in the transcripts in brains of obese mice. To understand the transcriptional regulations when mice eat too much fatty food, Marie will isolate brain areas and investigate them on the single cell level. "A very interesting project, lying far away from my comfort zone," admits Marie.
Yet, her dreams and endeavours do not stop here. Marie, fond of "freedom of doing science, finding interesting questions and answers, being able to constantly evolve", would love to go abroad to research further and, after a couple of years, to come back and establish her own scientific group.
Female scientist and a work/life balance
To realize her dreams, Marie is aware of the fact that she will have to come to a compromise with her husband, who has a very demanding job, and their two pre-school children. As Marie puts it with a smile on her face: "If anybody has a recipe on how to balance work life and family life, I would like to hear it. Because I really enjoy my work, I think about my job even when I am home. However, it is important to mention that I really enjoy the freedom of flexible working hours at the Center. It helps me to stay creative in the lab and have the capacity to enjoy my family, my garden, our home at the country side during this full and terribly busy time."
This burning passion towards her job also seems to lay the foundation of Marie's best advice for young researchers-to-be. "Choose a subject that you are really interested in and be enthusiastic about it, be happy when you have good result and annoyed when you get bad results. After all, it is going to shape your life. So, you'd better choose to spend your life on something that you really love and enjoy."