17 February 2022
CBMR's laboratories go green with a Silver LEAF certification
Sustainability
The green lab certification scheme LEAF helps laboratories reduce waste, energy and resource use. CBMR's laboratories have now secured the second highest level of certification, which helps the University of Copenhagen meet its commitments to the Paris Agreement.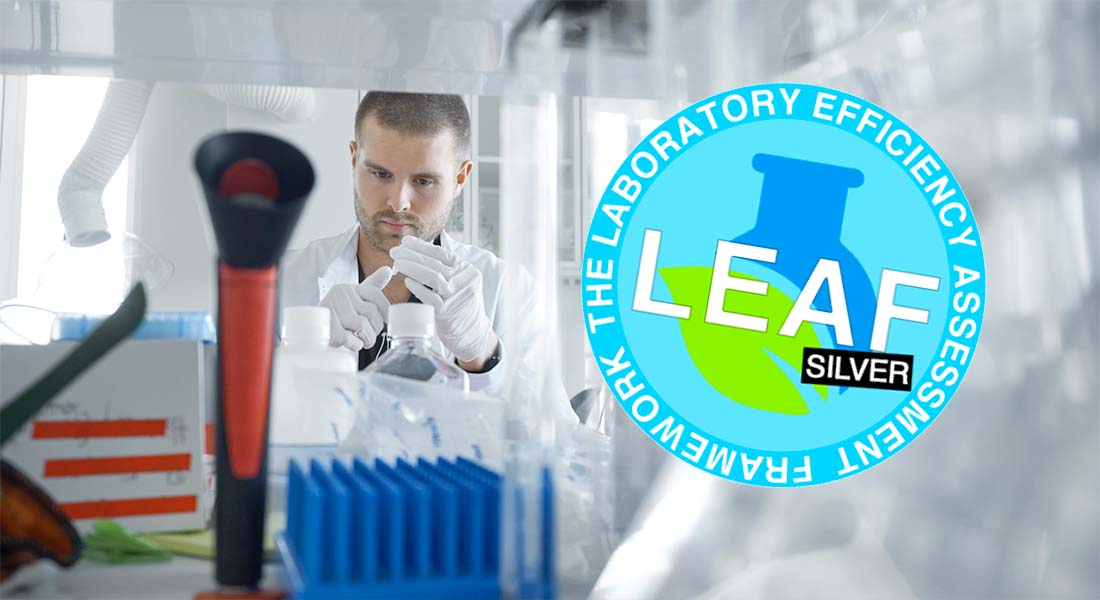 CBMR's laboratories allow our scientists to carry out their important research into metabolic health and disease. The wet and dry laboratories on all three floors of CBMR's facilities in the Maersk Tower are vital to the Center's work, however, they also produce significant waste and use between three and ten times more energy per m2 than standard office spaces.
In alignment with the Paris Agreement, the University of Copenhagen (UCPH) has committed to reducing its total carbon emissions by 50 percent by 2030 relative to 2018. As laboratories account for roughly 20 percent of UCPH's carbon emissions, they play an important role in reaching the climate targets for 2030.
To help meet these goals, the Faculty of Health and Medical Sciences (SUND) – which CBMR belongs to – has drawn on the green lab certification scheme, LEAF, which has been developed by universities in the UK. In addition to reducing energy use and carbon emissions, the scheme helps laboratories take action to save plastics, water and other resources. 
After working closely with SUND Sustainable Research Consultant Nikoline Borgermann, CBMR's laboratory managers have successfully transformed processes in CBMR laboratories to such an extent that the laboratories on all three floors have earned the Silver LEAF certification – a step up from Bronze and with Gold potentially on the horizon.
CBMR laboratory manager Rebecca Hinrichsen Jeberg was a central figure in implementing the new sustainable laboratory practices. She acknowledges the modern facilities in the Maersk Tower gave CBMR a good starting point.
"Working in the Mærsk Tower gives us an advantage regarding green lab facilities. Combining fantastic lab facilities with an increased focus on how to make small changes in our lab processes, we can further reduce the use of electricity, water, plastics and chemicals in the labs. Small changes in our daily work can make a big impact in the long run – it all adds up". 
Learn more about LEAF on the University College London website.
UCPH staff can read more about the university's implementation of LEAF on KUnet.