1 June 2023
CBMR publications and media appearances in April & May 2023
Media & Publications
Every month we release a full list of publications from the Center, as well as media appearances by the Center scientists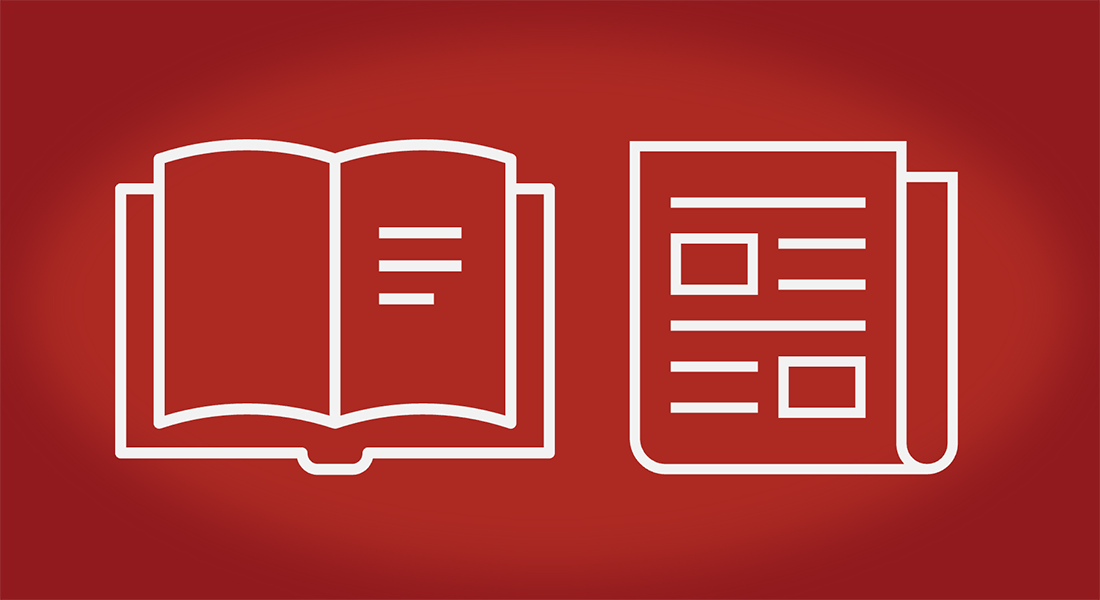 Media Appearances
---
Center for Basic Metabolic Research (CBMR)
Berlingske, 25/04/2023 (Section 2 (Business), page 6-7)
'Navneskift skal skabe investorinteresse for kræftselskab'
Ritzau, 25/04/2023
'Massiv forskningsbevilling skal imødegå voksende global folkesundhedskrise'
Science Report, 26/04/2023
'Milliardbevilling til forskningscenter åbner for nye mål og talentrekruttering'
Professor Ruth Loos
Altinget Sundhed, 03/05/2023
'Novo Nordisk Fondens pris for fedmeforskning går til KU professor'
Associate Professor Christoffer Clemmensen
Ritzau, 24/04/2023
'Rygetrangen kan måske dæmpes med kendt medicin'
Dagens Pharma, 22/05/2023
'Kombi af nikotin og vægttabsmedicin kan have interessant effekt på rygetrang og vægt'
Curator Aslak Aamot Helm
Kunsten.nu, 02/05/2023
'Vi åbner samtaler om kunst uden for den komfortzone, som kunsten normalt bevæger sig i'
Publications
---
Arumugam Group
Shah SA, et al. Expanding known viral diversity in the healthy infant gut. Nat Microbiol. 2023 May;8(5):986-998. doi: 10.1038/s41564-023-01345-7. Epub 2023 Apr 10.
Arumugam, Clemmensen & Schwartz Groups
Gradel AKJ, et al. The dietary regulation of LEAP2 depends on meal composition in mice. FASEB J. 2023 Jun;37(6):e22923. doi: 10.1096/fj.202201828R.
Arumugam, Gerhart-Hines & Treebak Groups
Peluso AA, et al. Oral supplementation of nicotinamide riboside alters intestinal microbial composition in rats and mice, but not humans. NPJ Aging. 2023 Apr 3;9(1):7. doi: 10.1038/s41514-023-00106-4.
Barrès Group
Crean AJ, et al. Male reproductive traits are differentially affected by dietary macronutrient balance but unrelated to adiposity. Nat Commun. 2023 May 4;14(1):2566. doi: 10.1038/s41467-023-38314-x.
Voisin S, et al. Exercise is associated with younger methylome and transcriptome profiles in human skeletal muscle. Aging Cell. 2023 May 2:e13859. doi: 10.1111/acel.13859. Epub ahead of print.
Clemmensen Group
Griem-Krey N, et al. The GHB analogue HOCPCA improves deficits in cognition and sensorimotor function after MCAO via CaMKIIα. J Cereb Blood Flow Metab. 2023 Apr 7:271678X231167920. doi: 10.1177/0271678X231167920. Epub ahead of print.
Ranea-Robles P & Houten SM. The biochemistry and physiology of long-chain dicarboxylic acid metabolism. Biochem J. 2023 May 15;480(9):607-627. doi: 10.1042/BCJ20230041.
Clemmensen, Emanuelli & Gerhart-Hines Groups
Lund J, et al. The anorectic and thermogenic effects of pharmacological lactate in male mice are confounded by treatment osmolarity and co-administered counterions. Nat Metab. 2023 Apr;5(4):677-698. doi: 10.1038/s42255-023-00780-4. Epub 2023 Apr 13.
Clemmensen & Pers Groups
Falk S, et al. GLP-1 and nicotine combination therapy engages hypothalamic and mesolimbic pathways to reverse obesity. Cell Rep. 2023 May 2:112466. doi: 10.1016/j.celrep.2023.112466. Epub ahead of print.
Gerhart-Hines Group
Bager Christensen I, et al. Effect of simvastatin treatment on mitochondrial function and inflammatory status of human white adipose tissue. J Clin Endocrinol Metab. 2023 May 10:dgad259. doi: 10.1210/clinem/dgad259. Epub ahead of print.
Gerhart-Hines & Treebak Groups
Backe MB, et al. PICK1-Deficient Mice Maintain Their Glucose Tolerance During Diet-Induced Obesity. J Endocr Soc. 2023 May 16;7(6):bvad057. doi: 10.1210/jendso/bvad057.
Grarup & Hansen Groups
Huang Y, et al. An adult-based genetic risk score for liver fat associates with liver and plasma lipid traits in children and adolescents. Liver Int. 2023 May 20. doi: 10.1111/liv.15613. Epub ahead of print.
Thuesen ACB, et al. Identification of pathogenic GCK variants in patients with common type 2 diabetes can lead to discontinuation of pharmacological treatment. Mol Genet Metab Rep. 2023 Mar 29;35:100972. doi: 10.1016/j.ymgmr.2023.100972.
Grarup, Hansen & Juul Holst Groups
Melchiorsen JU, et al. Rare heterozygous loss-of-function variants in the human GLP-1 receptor do not associate with cardiometabolic phenotypes. J Clin Endocrinol Metab. 2023 May 26:dgad290. doi: 10.1210/clinem/dgad290. Epub ahead of print.
Guasch Group
Alasalvar C, et al. Dried Fruits: Bioactives, Effects on Gut Microbiota, and Possible Health Benefits-An Update. Nutrients. 2023 Mar 26;15(7):1611. doi: 10.3390/nu15071611.
Hansen Group
Elingaard-Larsen LO, et al. Circulating Metabolomic and Lipidomic Signatures Identify a Type 2 Diabetes Risk Profile in Low-Birth-Weight Men with Non-Alcoholic Fatty Liver Disease. Nutrients. 2023 Mar 24;15(7):1590. doi: 10.3390/nu15071590.
Gersing S, et al. A comprehensive map of human glucokinase variant activity. Genome Biol. 2023 Apr 26;24(1):97. doi: 10.1186/s13059-023-02935-8.
Gul R, et al. Identifying the genetic causes of phenotypically diagnosed Pakistani mucopolysaccharidoses patients by whole genome sequencing. Front Genet. 2023 Apr 5;14:1128850. doi: 10.3389/fgene.2023.1128850.
Hajra B, et al. A novel homozygous nonsense mutation in NECTIN4 gene in a Pakistani family with ectodermal dysplasia syndactyly syndrome 1. An Bras Dermatol. 2023 May 12:S0365-0596(23)00085-5. doi: 10.1016/j.abd.2022.07.009. Epub ahead of print.
Lewis JI, et al. The effect of traditional diet on glucose homoeostasis in carriers and non-carriers of a common TBC1D4 variant in Greenlandic Inuit: a randomised crossover study. Br J Nutr. 2023 May 2:1-14. doi: 10.1017/S000711452300106X. Epub ahead of print.
Juul Holst Group
Legaard GE, et al. Effects of different doses of exercise and diet-induced weight loss on beta-cell function in type 2 diabetes (DOSE-EX): a randomized clinical trial. Nat Metab. 2023 May;5(5):880-895. doi: 10.1038/s42255-023-00799-7. Epub 2023 May 1.
Ludwig DS & Holst JJ. Childhood Obesity at the Crossroads of Science and Social Justice. JAMA. 2023 May 1. doi: 10.1001/jama.2023.7592. Epub ahead of print.
Madsbad S, et al. Does glucose lowering restore GIP's effect on insulin secretion? Nutr Metab Cardiovasc Dis. 2023 Apr 15:S0939-4753(23)00141-2. doi: 10.1016/j.numecd.2023.03.022. Epub ahead of print.
Kilpeläinen Group
Burrinha T, et al. Deacidification of endolysosomes by neuronal aging drives synapse loss. Traffic. 2023 May 23. doi: 10.1111/tra.12889. Epub ahead of print.
Drag MH, et al. Nanopore sequencing reveals methylation changes associated with obesity in circulating cell-free DNA from Göttingen Minipigs. Epigenetics. 2023 Dec;18(1):2199374. doi: 10.1080/15592294.2023.2199374.
Toh PJY, et al. Optogenetic control of YAP can enhance the rate of wound healing. Cell Mol Biol Lett. 2023 May 11;28(1):39. doi: 10.1186/s11658-023-00446-9.
Loos Group
Huerta-Chagoya A, et al. The power of TOPMed imputation for the discovery of Latino-enriched rare variants associated with type 2 diabetes. Diabetologia. 2023 May 6. doi: 10.1007/s00125-023-05912-9. Epub ahead of print.
Johansson Å, et al. Precision medicine in complex diseases- Molecular subgrouping for improved prediction and treatment stratification. J Intern Med. 2023 Apr 24. doi: 10.1111/joim.13640. Epub ahead of print.
Medical Museion
Hussey KD. Timeless spaces: Field experiments in the physiological study of circadian rhythms, 1938-1963. Hist Philos Life Sci. 2023 Apr 19;45(2):17. doi: 10.1007/s40656-023-00571-w.
Pradeu T, et al. Reuniting philosophy and science to advance cancer research. Biol Rev Camb Philos Soc. 2023 May 8. doi: 10.1111/brv.12971. Epub ahead of print.
Merino Group
Merino J, et al. Genetic predisposition to macronutrient preference and workplace food choices. Mol Psychiatry. 2023 May 23. doi: 10.1038/s41380-023-02107-x. Epub ahead of print.
Moritz Group
Donati S, et al. An automated workflow for multi-omics screening of microbial model organisms. NPJ Syst Biol Appl. 2023 May 19;9(1):14. doi: 10.1038/s41540-023-00277-6.
Hodek O, et al. Structural elucidation of 3-nitrophenylhydrazine derivatives of tricarboxylic acid cycle acids and optimization of their fragmentation to boost sensitivity in liquid chromatography-mass spectrometry. J Chromatogr B Analyt Technol Biomed Life Sci. 2023 May 1;1222:123719. doi: 10.1016/j.jchromb.2023.123719. Epub 2023 Apr 11.
Rodent Metabolic Phenotyping Platform
Dall M & Pedersen MH. Denmark's big tent includes postdocs. Science. 2023 Apr 14;380(6641):143. doi: 10.1126/science.adh4261. Epub 2023 Apr 13.
Schwartz Group
Tough IR, et al. Paracrine relationship between incretin hormones and endogenous 5-hydroxytryptamine in the small and large intestine. Neurogastroenterol Motil. 2023 Apr 3:e14589. doi: 10.1111/nmo.14589. Epub ahead of print.
Treebak Group
Kjøbsted R, et al. TBC1D4-S711 controls skeletal muscle insulin sensitization after exercise and contraction. Diabetes. 2023 Apr 19:db220666. doi: 10.2337/db22-0666. Epub ahead of print.
Yonamine CY, et al. Postmortem Brains from Subjects with Diabetes Mellitus Display Reduced GLUT4 Expression and Soma Area in Hippocampal Neurons: Potential Involvement of Inflammation. Cells. 2023 Apr 25;12(9):1250. doi: 10.3390/cells12091250.
Pers Group
Lee J, et al. A single-cell, time-resolved profiling of Xenopus mucociliary epithelium reveals nonhierarchical model of development. Sci Adv. 2023 Apr 7;9(14):eadd5745. doi: 10.1126/sciadv.add5745. Epub 2023 Apr 7.
Sakamoto Group
Lopez-Escalera S, et al. In Vitro Screening for Probiotic Properties of Lactobacillus and Bifidobacterium Strains in Assays Relevant for Non-Alcoholic Fatty Liver Disease Prevention. Nutrients. 2023 May 18;15(10):2361. doi: 10.3390/nu15102361.
Zierath Group
Smith JAB, et al. Exercise metabolism and adaptation in skeletal muscle. Nat Rev Mol Cell Biol. 2023 May 24. doi: 10.1038/s41580-023-00606-x. Epub ahead of print.
Topics