10 December 2020
"I was quite amazed when I arrived at CBMR"
Bioscience PhD Programme
We spoke to PhD student Nicole Fadahunsi about what drew her to CBMR, how the Center supports her scientific ambitions, and how she discovered that is actually possible to be an academic, and have a healthy work-life balance.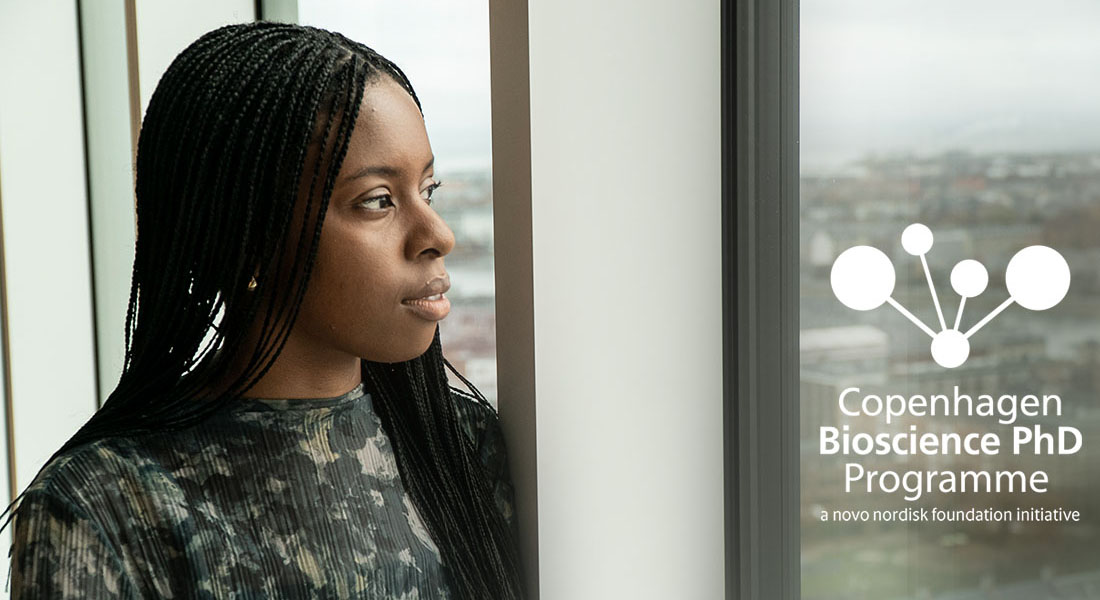 Nicole Fadahunsi is starting her third year of her PhD at CBMR, supported by the Copenhagen Bioscience PhD Programme. Originally from the UK, and with a BSc from the University of Manchester and an MRes from Imperial College London, she works in CBMR's Clemmensen Group that investigates the biological regulation of body weight.
Hey Nicole! What made you apply for the Bioscience PhD Programme in the first place?
I applied to the program because I'm really interested in both neuroscience and metabolism. I was looking for research projects that were focussed on those areas and there are a couple of groups at CBMR that do research in those areas. So, I applied and realised it started with a rotations between the different Centers in the Copenhagen Bioscience Cluster, which was a nice opportunity to get to know more labs and the work that they do. Also, it's a four year program that gives you a bit more time to do research.
Did you look at other opportunities, and if so why did you choose CBMR over them?
I looked at other places to do my PhD, mainly in the UK at two research institutes that were really great. But the thing with CBMR is that it's a research environment that's specifically focussed on metabolism and that's quite rare – there's plenty of opportunity for collaboration and research beyond my own project which I thought was exciting.
What were some of your first impressions about working here?
I was quite amazed when I arrived at the Center, actually. Everything was very well organized, there are amazing lab facilities and it was very easy to settle into the lab environment here.
I was also really impressed by the facilities, for example the labs and office space – it was a really nice research environment, unlike anywhere else I had been before. Additionally, the fact that everyone in the department works in this one environment, it's a hub for research. It makes it super easy to make contacts and network within the Center.
Could you tell us a bit more about the opportunity to rotate between the different Centers?
It is possible to rotate between the Centers. It's not something I was particularly interested in doing, but if you have research interests outside metabolism it's definitely possible and easy and even if you are interested in metabolism but want to collaborate with someone who does other research or has another technique that could be useful, its super easy because of the way the Centers are set up.
What's the Bioscience PhD Programme community like?
The Bioscience PhD community is really inviting. I think when you move to another country to do your PhD its really daunting and scary not knowing anyone. But it's really nice to start with 15 or 16 people who are in exactly the same position with the same research interests as you. It's really useful to have that support and opportunity to learn from people further along in the program, and to hear their advice on how they managed to pass through the program.
You've been here now two years, could you put some words on how have you changed as a scientist since you've been here?
Since coming to CBMR I think I've definitely become more independent as a scientist. With my PhD project I have a lot of autonomy and I can really guide the direction it takes, which is really nice because I get to be a bit creative and flexible, even though it is also challenging determining where your research project goes.
What are the questions you want to answer?
Well, my main research interest is neuroscience and metabolism but specifically how the brain is involved in appetite regulation, particularly pertaining to hedonic regulation of appetite. That's the appetite related to excessive eating and eating just because something feels good or makes you happy, rather than eating because you feel hungry. So neuroscience and metabolism combined.
What's it like working with Group Leader and Associate Professor Christoffer Clemmensen? How did you get connected?
Christoffer was one of the Group Leaders I was targeting because I know his research focus is very similar to mine. In the group we do a lot of work looking at the reward regulation of feeding as well as homeostatic feeding. So immediately I targeted Christoffer and I thought he would be the perfect supervisor. On doing the rotation I realised many of the techniques in the group were relevant to what I wanted to do and also that I really enjoyed the lab environment. It's a really nice group and as a supervisor he is really great, so it was a natural connection.
Is there something that you've learned that you could only have learned while being at CBMR?
Before joining CBMR I had a toxic view of academia. But since being here I realised you can have a healthy work life balance and that it's possible to be creative with your project. It's not so hierarchical here. So, there are many ways to do academia and CBMR does it really well. 
Now that you've been here for two years, has CBMR offered everything you've needed to do your science?
I would say so. There really is everything that you need here when it comes to your research needs. If you need to develop a new technique there's plenty of groups within and outside the Center that can help you develop that and I haven't struggled to find the help I need.
What if there's someone out there looking at CBMR or somewhere closer to home – what would you say to them if they aren't certain about leaving their home country and starting here?
I think that if you find a research project that really inspires you and could be motivated by, it could be really worthwhile to leave and come somewhere like CBMR. It's is a great research environment and really has everything you need. So I wouldn't hesitate to leave for those reasons.
Were you at all worried before coming here?
I wasn't worried before I moved here. I was relaxed and confident because through the interview process I realised there were a lot of groups that were doing research that I found interesting and I noticed that the environment was somewhere I would like to work – I was ready to go!
The Bioscience PhD Programme is an initiative by the Novo Nordisk Foundation. Applications to start in the autumn of 2021 are now open, and close on January 12, 2021.
Find out more by visiting cphbiosciencephd.org