15 March 2022
Two CBMR Group Leaders join the BioInnovation Institute's Venture Lab program
Research spin outs
Early-stage companies Warburg Oncology and Ousia Pharma, co-founded by Professor Thue Schwartz and Associate Professor Christoffer Clemmensen respectively, join the 12-month accelerator program to develop therapies from their discoveries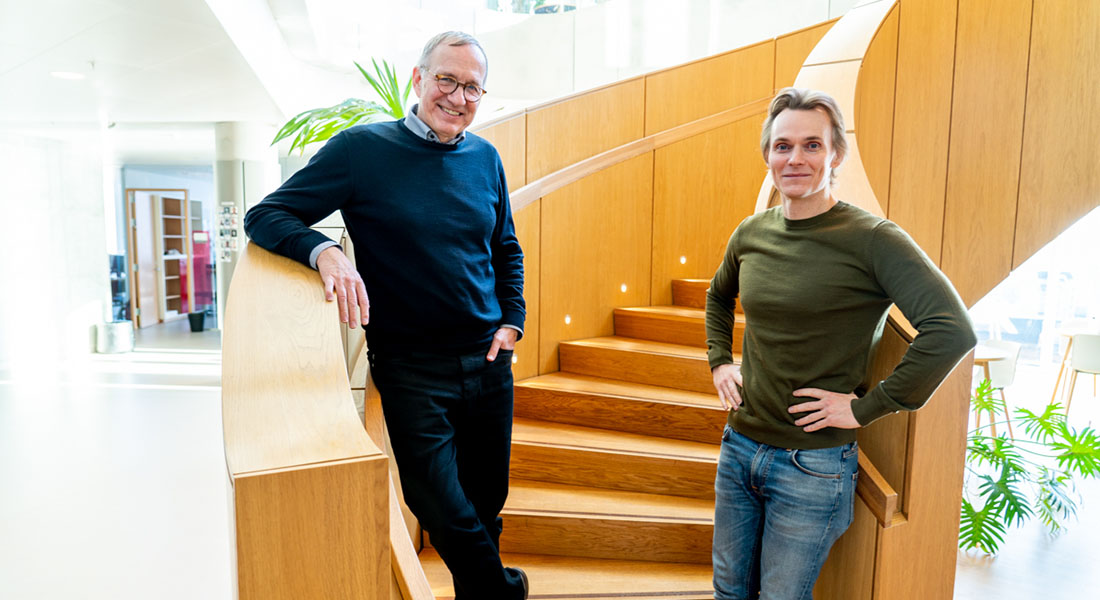 Scientists at the Novo Nordisk Foundation Center for Basic Metabolic Research (CBMR) study metabolic health and disease in the hope that their discoveries will lead to new prevention and treatment strategies. CBMR scientists are now taking a step toward realizing this vision thanks to support from the BioInnovation Institute (BII), an international commercial non-profit foundation incubating and accelerating world-class life science research.
Warburg Oncology, co-founded by Professor Thue Schwartz, and Ousia Pharma, co-founded by Associate Professor Christoffer Clemmensen, have both joined BII's 12-month Venture Lab accelerator program, which helps build research-based ideas with high-growth commercial potential into viable start-ups. In addition to business acceleration and scientific and team development, the companies are provided a risk-free convertible loan of EUR 0.5 million plus access to labs and offices at BII's entrepreneurial ecosystem in the center of Copenhagen.
Novel oncology treatments
Warburg Oncology is working on novel and innovative therapeutic principles focused on inhibition of tumour-cell metabolism and immune-evasion by targeting receptors for oncometabolites. It builds on the discovery that cancer cells only survive in the harsh microenvironment inside a tumor by upregulating cellular sensors for key metabolites secreted by the stressed cancer cells.
The company is co-founded CBMR's Professor Thue Schwartz, Associate Professor and Head of the Computational Chemistry Unit Thomas Frimurer, Postdoc Mette Trauelsen, as well as Professor Stine Falsig Pedersen from the University of Copenhagen's Department of Biology in the Faculty of Science.
"Becoming part of BII's Venture Lab program is a great next step in the effort of the Warburg Oncology team to transform our basic research in cancer cell metabolism and structure-based drug discovery at CBMR into novel oncology treatments targeting both cancer cells and - importantly - immune evasion," says Professor Thue Schwartz.
Safer approach to sustained weight loss
Ousia Pharma, a biotech spin-out from CBMR's Clemmensen Group, is developing safe and effective pharmacotherapies to improve the health and lives of the more than 650 million people living with obesity. Their targeted approach uses peptides to deliver modulators of synaptic plasticity to drive a potent and sustained weight loss without compromising safety.
The founders of Ousia Pharma are CBMR's Associate Professor Christoffer Clemmensen, Staff Scientist Anders Bue Klein and Postdoc Jonas O. Petersen.
"I am extremely excited and grateful for this opportunity that enables an ambitious pursuit to evaluate if our novel drug candidate is efficacious and safe in humans," says Associate Professor Christoffer Clemmensen.
"Likewise, I am thankful for the great collaborations and interactions with the UCPH Technology Transfer Office as well as the BioInnovation Institute for providing their expertise and support throughout establishing Ousia Pharma. Such a commercial opportunity is only possible because of a fantastic infrastructure developed to help academic scientists to translate and transform their basic discoveries into potential therapies."
Read more about new Venture Lab cohort on the BII website.
Topics