10 May 2022
"Sometimes you're the very first person in the world to know something – that's a pretty cool feeling."
Faces of CBMR
Ben Stocks is a Postdoc in the Zierath Group, where he studies the effect of diabetes and obesity on the proteomes of different organs. We had a chat about his research career and his motivations for being a scientist.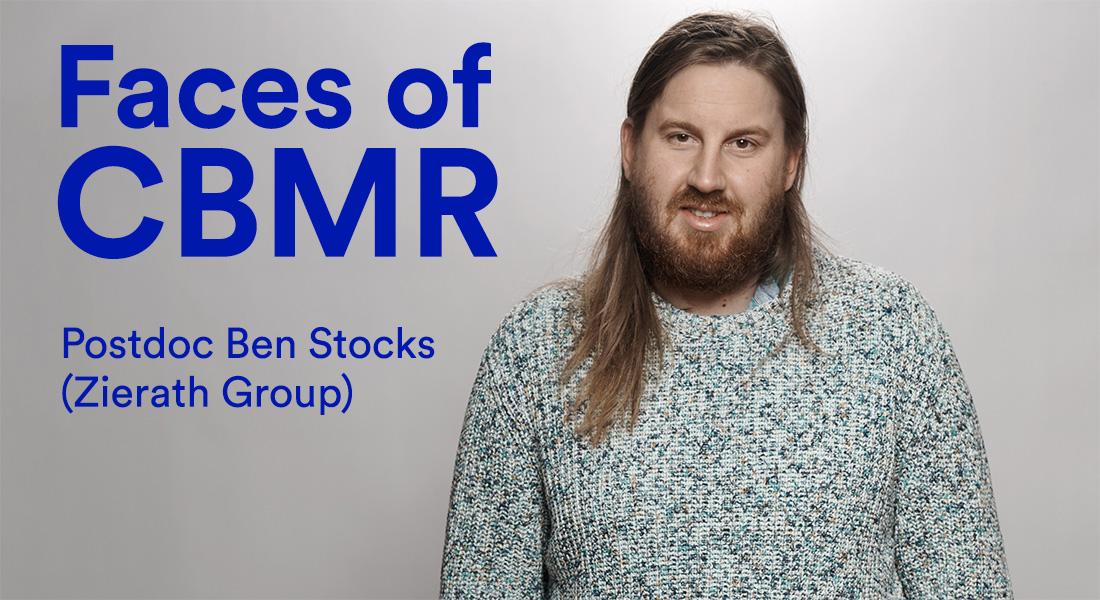 Read more about Ben Stocks and the Zierath Group.
When did you decide that science was something for you?
I was interested in sport and when I was a teenager I started watching sport in an analytical way. I played rugby but was mostly on the bench so I had plenty of time to watch and observe to understand what was going on. And as I also got into science, I started thinking about the scientific rationale of sport performance – bringing together sports and biology. That drew me into doing an undergraduate degree in Sports Science at the University of Bath.
You've ended up doing basic research – why didn't you go the route of sport performance?
I didn't want to work with elite athletes, and I didn't want to be a P.E teacher, but I knew I wanted to do research. So during my undergraduate studies I took every opportunity I could to expose myself to research. Be that working with Professors at Bath, either volunteering to be a participant or to help out with the trials. And I spent a year in Sweden on a professional placement as a Research Assistant at the Swedish National Winter Sport Research Centre in Östersund and ended up running my own research project.
What was that first project?
I was giving carbohydrates to cross country skiers and seeing how it improved their performance. We got it published and it was a great to learn so much about the research process at a young age – that was brilliant.
You ended up skipping a Master Degree and went straight to do a PhD – how did that happen?
I went in to see my supervisor at Bath and I said that I'm looking for Masters places, if you have got any advice for me, and he was like, "don't do one". Instead, I got accepted to a Doctoral training programme between Birmingham, Warwick and Leicester in the molecular side of exercise physiology. So we were taking muscle biopsies and I was looking at signaling pathways within muscle in response to exercise and nutritional interventions.
Were you prepared for this sort of research?
Not in a wet lab sense. My undergrad dissertation was about tissue crosstalk and looking at secretions from adipose tissue. But I'd done nothing in terms of, say, western blotting or anything like that. I think you've got to push yourself every time you go to a new position. There's no point going and just doing what you can already do, because you're not going to get very far. So what I wanted to do is move on and learn molecular biology techniques, but still with this application to exercise and the muscle.
What motivated you to get into research and learn these new skills?
One of the big motivations for doing health research was that I could see the impact of it more. I got bored of sports science because you're just looking for marginal gains in athletes who are already elite. Whereas health sciences has the potential for a much greater societal impact, if you can translate it.
What did you write your PhD on and then transition into doing a Postdoc CBMR?
I researched intracellular signaling in muscle in response to exercise and nutrition. In other words, how the signal is transduced from exercise to adaptation, and particularly in the context of mitochondria. When I completed it, I was offered a role in Copenhagen and after a three-day visit in the summer I just fell in love with the place.
How has your research developed here at CBMR?
I mostly spend my time studying what obesity and diabetes does to the proteome, that is – in theory – the complete set of proteins in any system, of organs and how circadian rhythms play into that. With proteomics we can dig deeper than what we have before, and we are discovering the great complexity of how the mitochondria of liver and muscle are affected in these diseases. Not all proteins are affected in the same way, and we can show that in great detail. That allows you to pick new proteins out that hadn't previously been discovered, and then look at the function and what they're doing. How obesity and type 2 diabetes effects the liver proteome in humans is the main focus of the study I received funding for through my EASD Rising Star fellowship.
What's your primary driver as a researcher? Is it making a difference for people or is it curiosity?
I'm motivated by both, but I am most driven by curiosity. It's just I've always liked learning. And that's what my job is – to learn. Sometimes you're the very first person in the world to know something. You look at your results and go, "Oh, no one else knows this". That is until I tell someone. That's a pretty cool feeling.
Topics
More interviews with past and current CBMR staff